Deepki SAS
·
Hybrid Remote
International IT Support Specialist | (August/September 2023) | Paris
Deepki, leading the way in ESG for real estate owners and accelerating the transition towards net zero and sustainability.
---

We are looking for an IT Support Specialist to join our team. You will be responsible for providing technical support to employees of the company, as well as assisting the IT team in the day-to-day management of internal IT issues. You will work in the IT team and closely with other departments to ensure smooth operations.
⏱️ Starting date : September 2023
📍 This position requires you to be based in Paris
The IT support mission :
Develop and implement strategies to successfully scale and improve IT support across the company. The IT Support Specialist is in charge of providing all Deepki employees with world-class IT support during their journey at Deepki and enabling them to fulfill their mission with efficiency and productivity.
This role is key for the overall success of Deepki as it enables teams over several countries and locations (in offices or remote) to be fully operational and to focus on their business.
The IT Support team covers Level 1 and Level 2 support. They also work with the other members of the IT Operations team (System & Automation engineer) for Level 2/3 incidents and requests, and with many teams in the company to support collaborators (Office Manager, People, Security, other corporate services, etc…).
Main responsibilities:

• Be the initial point of contact on the IT Operations team
• Ensure operational excellence and handle (L1/L2) user requests from all offices - hardware/software, system & network
• Manage IT support requests using a ticketing system, by following up regularly with users to ensure issues are resolved effectively and in a timely manner
• Assisting the different teams during the organisation of events or large meetings in the offices requiring specific equipment
• Onboarding & Offboarding of Deepki employees
• Configure, install, and maintain computers and peripherals for new employees, and regularly perform software and security updates
• Resolve complex issues related to network, servers, databases, etc
• Contribute to the improvement of internal IT processes and systems, by proposing innovative solutions and automating recurring tasks
• Document IT support processes and procedures to improve service quality and ensure operational continuity
• Assist the IT Operations Manager in team projects
• Initiate new opportunities to improve employee satisfaction and increase efficiency by automating processes and potential externalization
Scope :

 • Management and support of all office hardware equipment (endpoints, meeting room equipment, IoT devices, mainly anything related to IT and connected to the office network, etc)
  • Managing and supporting company users' technical working environment (laptops & accessories)
  • Support on Office softwares (GSuite, Slack, Microsoft Office 365, etc.)
  • Support on Security Software (Cloud-based IAM, MDM for Mac OS, Chrome management, Antivirus, etc)
  • Control in-house equipment (meeting rooms, visio conference tool, printers, cabling, etc) 

Your profile :

 • Degree in Computer Science or a related field
  • At least 1 year of experience in a technical support role (L1/L2), ideally with an experience in high-growth technology companies (start-up/scale-up) and/or fast-moving environments
  • In-depth knowledge of MacOS operating systems, common productivity software, and computer peripherals
  • Knowledge of computer networks, security, and data backup
  • Good knowledge of Google Workspace
  • Strong troubleshooting and problem-solving skills with the ability to communicate and collaborate with others stakeholders
  • Attention to detail and accuracy
  • Fluent in English and French with experience working in an international environment
  • High level of autonomy and ability to manage some IT Support projects
  • Ability to prioritize and work on multiple projects simultaneously 
💡 We are above all looking for someone who is proactive, self-motivated, and committed to providing exceptional service to our employees : you might not meet every requirement mentioned, so if you feel like you only match 70 or 80%, go ahead and apply!


---
WHY JOIN DEEPKI?
Deepki is a company with a cause: we work to make the world a better place by reducing real estate's negative impact on the planet. As a fast-growing tech company focused on ESG, we offer employees a unique workplace where they can make a difference.
We provide a flexible environment where employees can work from home up to 3 days per week (more for software engineers), and organize regular social events to build relationships and spirit among employees.
On top of providing the usual social benefits in all locations, we also invest heavily in the training and development of our employees, and invite all new "Deepkies" to take part in a 2-day onboarding session in Paris during their first 2 months in the company.
Our list of benefits includes, but is not limited to, Health/Pension Insurance, meal vouchers, transportation allowance, winter & summer bonuses, and more! If you're interested in learning a foreign language, we've partnered with a language platform that offers 5 different lessons in French, English, Spanish, Italian, and German.


Deepki is an Equal Opportunity Employer. We do not discriminate on the basis of ethnicity, religion, sex (including pregnancy, childbirth, or related medical conditions), gender identity, sexual orientation, age, origin, non-disqualifying physical or mental disability or any other basis covered by law. All employment is decided on the basis of qualifications, passion, merit, and business needs.
Locations

Remote status

Hybrid Remote

Employment type

Full-time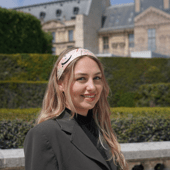 Contact
Anouk
International Talent Acquisition – Human Resources
Impact forward
We are looking to grow our teams with talents that share our energy and motivation to accelerate the environmental transition at an international scale!


Our profiles are a mix of different backgrounds and experiences, all of whom work together in order to ensure the best possible user experience. To match Deepki's mindset, it is important to be open and curious, with good listening skills. Joining Deepki means becoming a team player, and giving a purpose to your work by trying to save the world every day!
Deepki SAS
·
Hybrid Remote
International IT Support Specialist | (August/September 2023) | Paris
Loading application form